A travel guide for beautiful Bitterroot Valley and Hamilton, Montana. Our favorite restaurants, breweries, places to stay and things to do.
There's so much to do in the Bitterroot Valley and it's super easy to explore, as the towns are all very close together. We ventured as far down as Hamilton, which is still only an hour outside of Missoula.
The Bitterroot Valley offered a great balance of outdoor activities and opportunities to relax. We hiked, biked, ate and drank to our hearts content. We visited the first week of September and the timing was perfect. The summer crowds had dispersed, and the weather was warm during the day and crisp at night.
Here's what we loved…
Here are our favorite things we did during our time in the Bitterroot Valley. You'll find places to stay, things to do and where to eat (and grab a great beer!).
Bitterroot Valley Farmer's Market
If you find yourself in the Bitterroot Valley on a Saturday, the Hamilton Farmer's Market is a must. They have an amazing variety of fresh, organic produce and it's great to talk to the farmer's and growers who are behind the products. Everyone is super friendly, and I even walked away with a new pie recipe (made in mason jar lids!) that I can't wait to share with you!
Hamilton Farmer's Market
Saturdays Spring through Fall
Bedford Street between 2nd & 3rd
Hamilton, Montana 59840
http://hamiltonfarmersmarket.org
Hamilton, Montana Microbrewery
Montana is full of microbrews, and the Bitterroot Valley is no exception. Bitterroot Brewery has amazing beer and their menu has something to please everyone, from burgers to salad. It's a great place to grab dinner and they have a rooftop patio that makes a great place to meet up with a group.
Bitterroot Brewery
101 Marcus Street
Hamilton, Montana 59840
www.bitterrootbrewing.com
Beautiful Waterfall in the Bitterroot Valley
Skalkaho Falls is absolutely gorgeous, and it's so easy to get to it seems like someone is playing a joke on you. It's the most beautiful waterfall I've ever seen that doesn't take a major hike to get too. Despite being right at the side of a road, it's still relatively peaceful and a beautiful place to visit if you're in the Hamilton area. The drive to the waterfall on Highway 38 is beautiful in its own right too. Just be ready for it to turn to gravel halfway up the mountain! 🙂
Skalkaho Falls
Montana Highway 38
Hamilton, Montana 59858
Best Bed & Breakfast in the Bitterroot Valley
If you're looking for a charming and cozy bed and breakfast in the Bitterroot Valley, Time After Time is it. We highly recommend springing for the private cabin on the property which is the perfect balance of rustic and comfort. Your host, Trish, is a wealth of knowledge about the Bitterroot Valley and steered us towards a lot of the great things to do you see on this page. Trish is an amazing cook and her breakfasts were definitely a highlight. She also offers afternoon tea on your arrival and the room is well-stocked with snacks and drinks. I can't imagine a better place to stay when you are exploring the Bitterroot Valley.
Time After Time Bed & Breakfast
197 Pistol Lane
Victor, Montana 59875
http://www.timeaftertimebb.com/
Best Hiking in the Bitterroot Valley
We really wanted to do some hiking on our trip, but given we were only in Montana for a few days, we had to be practical about how much we could accomplish! We were so lucky to stumble upon the Blodgett Canyon hike via a Google search that landed us on AllTrails.com.
This hike was definitely the highlight of our trip. It's absolutely incredible how easily-accessible this trail was and the sheer variety of terrain we saw in such a short a short hike. The trail is an out and back and really well marked. It was easy to do in just sneakers, no fancy gear needed. We chose to hike 3 miles in and 3 miles out with a beautiful waterfall as the halfway point. Along the way there were canyons, peaks, marshes, and tons of wildlife. Just make sure you pack your bear spray (and a bear bell) whenever you do any hiking in Montana. Grizzly attacks are no joke!
Blodgett Canyon Trailhead
Directions: Take Highway 93 south, turn right onto Bowman Road, take the first left onto W River Road, turn left onto Ricketts Rd, continue onto Blodgett Camp Road, turn right to stay on Blodgett Camp Road, continue to trail head.
Hamilton, Montana
http://www.alltrails.com/trail/us/montana/blodgett-canyon-to-the-waterfall
Best Place to See Wildlife in the Bitterroot Valley
The Lee Metcalf National Wildlife Refuge is 2,800 acres of protected land outside of Stevensville, Montana. It's the home of fish, birds, riverfront forest and wetlands. The refuge has easily-accessible walking paths and some are even paved.
Lee Metcalf National Wildlife Refuge
4567 Wildfowl Lane
Stevensville, Montana 59870
http://www.fws.gov/refuge/lee_metcalf/
Best Pizza in the Bitterroot Valley
Higher Ground Brewery is a great microbrewery in the Bitterroot Valley. In addition to dozens of beers on tap, they have amazing pizza. Even if you don't like beer, it's totally worth going to eat that pizza! We got the Thai chicken pizza and the Emerald Garden pizza and both were devoured in just a few minutes.
Higher Ground Brewery
518 North 1st Street
Hamilton, Montana 59840
http://highergroundbrewing.com
Best Place to Get Married in the Bitterroot Valley
The 100-year-old Daly Mansion is a really special look back at the Bitterroot Valley's history. A team of dedicated volunteers and staff are slowly returning it to it's original splendor and even frequently get donations of furniture that were in the house decades ago. Thanks to photos of the house, the decorations and furniture are almost identical to what they once were. The tour is amazing and it's so fun to walk through the house and imagine it filled with posh guests. Check their events schedule as they frequently host events on the grounds. It's also a stunning wedding venue.
Daly Mansion Tour
251 Eastside Highway
Hamilton, Montana 59840
www.dalymansion.org

Best Restaurant Decor in the Bitterroot Valley
Despite the name, the Filling Station Grille only fuels people – no gasoline sold here. They serve tex-mex food, burgers and old fashioned sundaes. The real draw though, is there amazing decor!
Filling Station Grille
217 West Main Street
Hamilton, MT 59840
www.fillingstationgrille.com

Cycling in the Bitterroot Valley
The Bitterroot Valley is a great place to ride bikes, especially mountain and cyclocross. There are tons of bike shops in Missoula and all of them were really helpful with advice in helping Pat find places to ride. For this trip, he brought his road bike, which was perfect for riding the 50 mile paved bike trail that runs from Missoula to Hamilton. Yes, you read that correctly – such an amazing thing that the community has come together to make a reality. No matter what kind of biking you enjoy, there's a place to do it in the Bitterroot Valley.
Bike Riding in the Bitterroot Valley
50 Mils of Bike Trail from Missoula to Hamilton
https://bitterroottrail.com/
Best Antique Mall in the Bitterroot Valley
One of the things I do in every small town we visit is scope out the local antique scene. Small towns are typically the best place to find props for food styling and it's always fun to come hope with a few 'souvenirs' to remember my trip! There are numerous antique stores in the Bitterroot Valley, but by far the best I visited was The Creamery Antique Mall in Stevensville.
The Creamery Antique Mall
4072 Eastside Highway
Stevensville, MT 59870
http://creameryantiquesmall.com/
Hard Cider in the Bitterroot Valley
Backroad Cider is a mother-son run operation and new to the Hamilton scene. All of the ciders on tap are made by them and you can tell that they are passionate about perfecting their craft! The cider is delicious and I definitely recommend tasting several to find out what best fits your palate! If you're lucky, you'll also catch their rootbeer on tap too.
Backroad Cider
98 Marcus Street
Hamilton, Montana 59840
http://www.406cider.com/
Community Events in the Bitterroot Valley
Even though they are a small town, Hamilton has a very dedicated community group that arranges fun events all year long in Hamilton. We were lucky enough to be there on a Thursday night, and caught a great band, Poor Henry, playing to a group of locals.
Hamilton Tonight!
Hamilton, Montana 59840
https://www.facebook.com/hamiltondowntownassociation/

Best Coffee Shop in the Bitterroot Valley
Hamilton's neighborhood coffee shop serving high quality coffee that they roast in house. A great place to stop for a cup of joe before you explore the Hamilton farmer's market, with is just a block away.
Big Creek Coffee Roasters
301 W Main Street
Hamilton, MT 59840
http://bigcreekcoffeeroasters.com
Tell me, have you visited the Bitterroot Valley? Let me know if you have any recommendations!
Thanks for reading A Side of Sweet! For more Sweet in your life, you can find me on Instagram, Pinterest, Facebook, YouTube, Bloglovin', Snapchat (@asideofsweet), or Twitter. You can also subscribe to receive a weekly email with new posts and random musings from me.
P.S. – Traveling to Montana? Check out these guides for more travel inspiration!
What to Do in Glacier National Park Montana:
Things to Do in Missoula, Montana: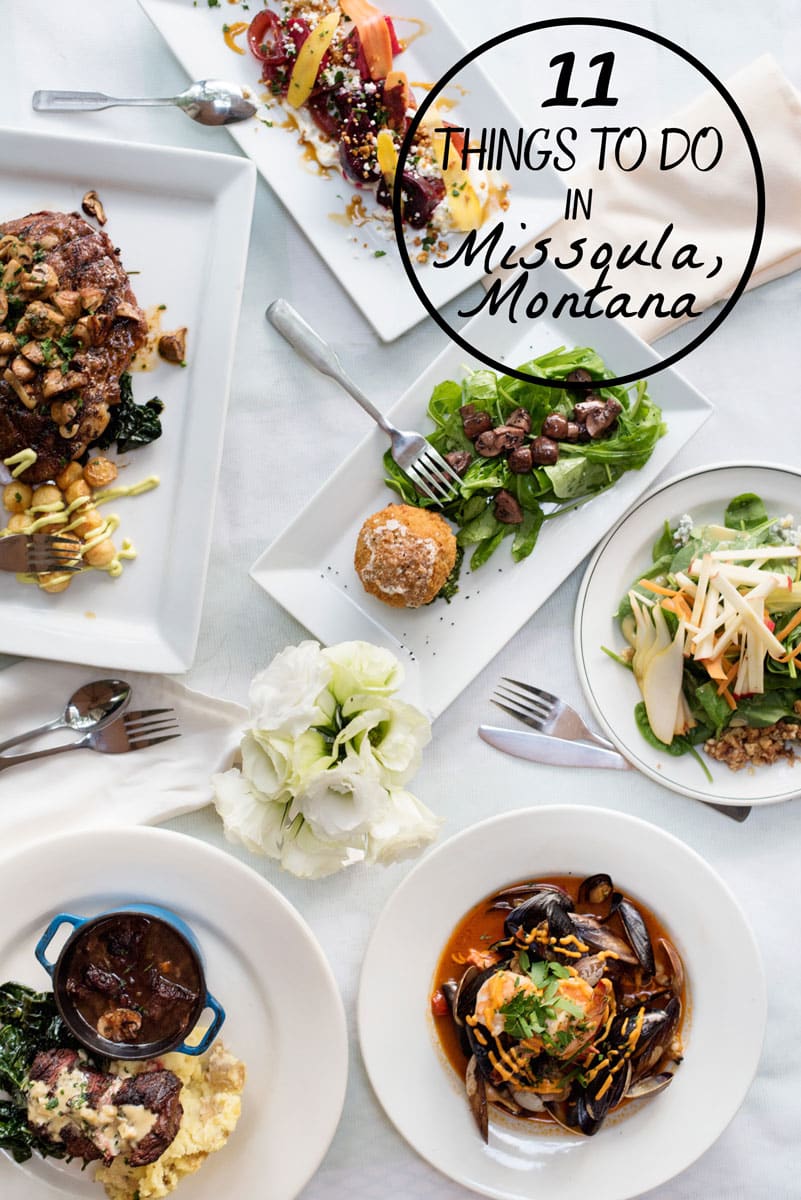 Snowbear Chalets in Whitefish, Montana: