Everything you need to know to dominate the Tokyo, Japan food scene. Your Tokyo food guide for the best restaurants for sushi, ramen, snacks and more!
Tokyo, Japan is foodie heaven. I was so lucky to have a few days there on either side of my epic trip to Okinawa. I basically ate like it was my job. At least four solid meals per day and some stops for snacks in between! I wanted to cram as much of Tokyo's amazing food in as I possibly could.
You may be wondering how I can call myself expert enough to give you recommendations on where to eat in Tokyo. Having spent only a couple of days there, I really only scratched the surface of this incredible foodie city!
Luckily for me, I approached Tokyo armed with the advice of four Tokyo foodie masters. My panel of experts included:
They each gave me about a dozen recommendations, which set me up for an incredible experience sampling what Tokyo has to offer.
Tokyo Food & Restaurant Guide
Let's start with ramen. Ramen is one of my favorite comfort foods and there is no better place than Tokyo to indulge in a slurpy bowl of umami ramen goodness.
Find the Best Ramen in Tokyo, Japan
Inoue Ramen at Tsukiji Fish Market (Closed)
Update: I was told by a reader that Inoue has sadly closed after a fire destroyed their stand. Such a loss!
I ate ramen for breakfast every day that I was in Tokyo. It may sound strange, but once you've tried it there's really no comfort food! The perfect start to your day in Tokyo is a bowl of amazing ramen at Inoue Ramen, located just outside Tsukiji Fish market. This is the perfect first stop before you visit the market itself. It's fascinating to watch the old chef plate bowl after bowl of ramen for the hungry masses.
Inoue is a bit hard to find, but you'll see a queue that wraps around at least three times in front of a nondescript restaurant front labeled ??. That's the humble spot for some of the best ramen in Tokyo!
Inoue Ramen at Tsukiji Fish Market
???Tsukiji, 4 Chome??????
Japan, ?104-0045 Tokyo
Open 4:30 a.m. – 1:30 p.m.
Ichiran Ramen Shibuya, Shinjuku, & Roppongi
Not only is the ramen at Ichiran amazing, it's also a fun and unique experience. You place your order at a vending machine and get your bowl of ramen without ever saying a word to a human. The vending machine spits out a ticket and you mark your order preferences on a little sheet. A hostess points you to a solo booth. A little door opens and your bowl of ramen slides magically through. It was so good I honestly thought about going through the process all over again! Just a word of warning, even though it's open 24/7, there's always a line!
Ichiran Ramen Shibuya
???Jinnan, 1 Chome?????
Japan, ?150-0041 Tokyo
http://ichiran.com/en/
Ippudo Ramen in Ginza, Roppongi & Shinjuku
Ippudo is famous for their pork tonkatsu ramen. It's so INSANELY delicious and definitely lived up to the hype. They have several different options, but I went with the Shiromaru classic which is their original pork tonkatsu ramen. At only $8 USD for a bowl, next time I might order one of each! Get there early as is usually a line out the door.
Ippudo Shinjuku Island Tower
Shinjuku, Nishishinjuku, 6 Chome????
???????????????
Japan, ?160-0023 Tokyo
http://www.ippudo.com/
Best Sushi Restaurants in Tokyo, Japan
Even corner market sushi in Tokyo will be better than the best sushi you can find in the United States. If you really want to get the best omakase sushi menu though, here are two spots to check out.
Sushidai at the Tsukiji Fish Market
The line is a testament – Sushi Dai located near Tsukiji Fish Market is incredible. The sushi was incredible – some of the best of my trip. What really stood out though, was how friendly and engaging Chef Urushibara Satoshi was. He took the food and turned it into an experience.
With just a few seats, it feels like you're discovering a secret spot, but the secret is out! It was actually voted the third best restaurant in all of Japan on Tripadvisor a couple of years ago. Get there early and you'll still probably wait 2 hours. The tasting menu is about $40.
Sushidai Tsukiji Fish Market
???Tsukiji, 5 Chome????
Japan, ?104-0045 Tokyo
+81 3-3547-6797
Only open 5am to 2pm
Sushiso Masa Sushi in Minato, Tokyo
For every trip, I try to plan one night where I totally splash out for an exceptional meal (typically with a matching exceptional price). For my Japan trip, this was the 50 course (!) Omakase menu at Sushiso Masa. This was another dining experience that combined incredible food with great service. Chef Masakatsu Oka went out of his way to make sure guests were comfortable and explained each course in both English and Japanese. He also had a book with pictures of the fish/sea creatures we were eating to point to. The sushi itself was beyond amazing. Course after course of deliciousness. I also tried food I didn't even know existed – like live clam, sea grapes, purple uni, and fish ovaries!
The restaurant only seats seven, so a reservation is essential. I was able to get a reservation before my trip using Pocket Concierge. The fact that it is difficult to find (it's downstairs and has a poorly marked door), makes it even more charming. The only option is the Omakase (chef's choice) menu which was not cheap. The approximately $275 meal was definitely worth the experience of eating the best sushi of my life. Pro tip: grab a stool at the center of the sushi bar to be served by the chef himself.
Sushiso Masa
4-1-15 Nishiazabu | B1F Seven Nishiazabu, Minato 10
???????????? ??????
Japan, ?106-0031 Tokyo
Eating Yakatori in Tokyo, Japan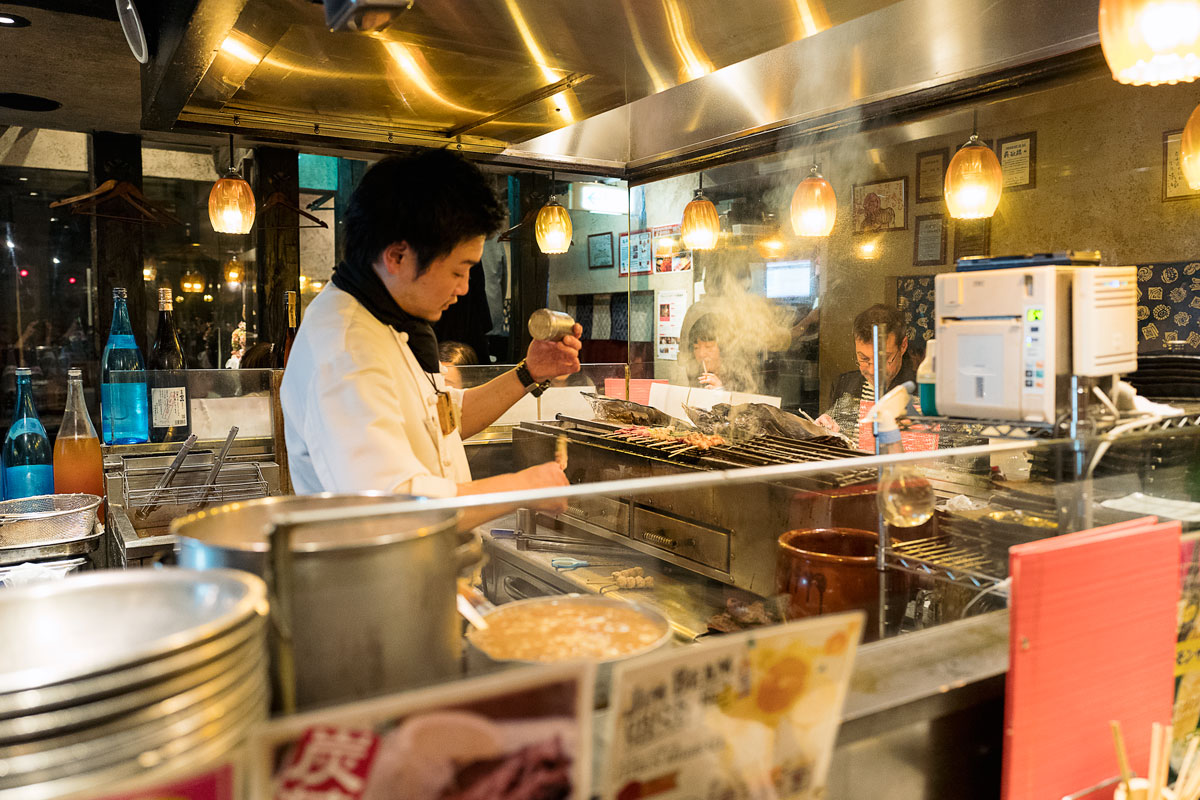 Yakitori 'Piss' Alley in Ginza
Yakitori is Japanese grilled meat on skewers. They are delightful and the perfect food for a night out on the town. The best place to get Yakitori in Tokyo is Yakatori Alley in Ginza. The entire street is lined with small, slightly seedy Yakitori bars. Pick any of them. You can even "bar hop" from one to the next getting a skewer at every place!
Yakitori Alley in Ginza
Chiyoda, Yurakucho, 2 Chome????? 2 100 0006
Japan, ?100-0006 Tokyo,
Fun Sweets & Treats in Tokyo, Japan
Totti Cotton Candy Factory Harijuku
One of the silliest but most magical things I ate in Tokyo was a giant rainbow cotton candy made right in front of me at Totti Candy Factory in the Harijuku neighborhood of Tokyo. As you can see, the cotton candy was literally the size of half of my body. It's so much fun to watch the cotton candy being spun and the candy factory also has bulk candies you can buy by weight.
Totti Candy Factory Harijuku
Shibuya, Jingumae, 1 Chome????? RYU??????
Japan, ?150-0001 Tokyo
www.totticandy.com
Takano Fruit Parfaits in Shinjuku, Tokyo
Located in the tunnels of Shinjuku train station, Takano Fruit Parlor is THE place for gorgeous fruit parfaits in Tokyo. Their desserts are made right in front of you from layered fresh fruit and ice cream. They also have cases full of yummy 'couture fruit gifts'. Treats range from budget friendly to absurdly expensive.
Shinjuku Takano Fruit Parlor
Inside Shinjuku Station
3-26-11 Shinjuku Shinjuku Tokyo
??? ??? ?? 3-26-11 ?????? B2F
http://takano.jp/index.html
Taiyaki is a very popular Japanese snack, and Naruto in Asakusa market is said to have some of the best in Tokyo. The best way I can describe them is a waffle stuffed with a sweet red bean paste. Served warm, they are such a treat! One of the fun things about Naruto watching them prepare the treats right in front of you so you can see all the steps.
Naruto Taiyaki Hompo Asakusa
2-2-1 Takadanobaba, Shinjuku 169-0075
Tokyo, Japan
http://www.taiyaki.co.jp/
Kagetsudo Melon Bread
Melon bread or melonpan, is a traditional Japanese snack that you have to try when you're in Tokyo. The best place is at Asakusa, just like many of the snacks in this list. Luckily at the Asakusa market in Tokyo you'll smell them before you see them! Melon bread is just a bit crispy on the outside and soft and pillowy on the inside. They seem quite big, but somehow I managed to eat the whole thing before I even realized it. So good! I'm not the only one, the line to get melonpan speaks for itself!
Kagetsudo Melon Bread
?111-0032 T?ky?-to, Tait?-ku
Asakusa, 2 Chome?????
Tokyo, Japan

Kibi Dango Sweet Dumplings
Kibi Dango are sweet Japanese dumplings made from millet and mochi rice flour. The mochi is rolled into balls and rolled in soy bean flour. Like many great things in the world, it's then placed on a stick to be enjoyed. 🙂
Kibidango Azuma Asakusa
1-18-1 Asakusa
Taito, Tokyo Prefecture, Japan
Website
Cash only
Gindaco Takoyaki Asakusa
Takoyaki are Japanese balls filled with minced or diced octopus, tempura scraps, pickled ginger, and green onion and topped with takoyaki sauce. They taste similar to Okonomiyaki, which is a savory Japanese pancake. They are basically bites of heaven. A great place to try them is Asakusa district of Tokyo, which is famous for its snacks and street food.
Gindaco Takoyaki Asakusa
Daiichiya Bldg., 1-1-12 Asakusa, Taito-ku
Tokyo, Japan 111-0032
Website
Other Japanese Foods to Try:
Okonomiyaki – Japanese make your own savory pancakes
Bento Boxes – available everywhere, great to grab before you head to the airport or on a roadtrip
Basements of Department Stores – the food hall is located in the basement and they are incredible. You'll find everything from fancy chocolates to french pastries as well as amazing sushi, bento boxes and pre-made foods. Nagi says the best are in Ginza
Sushi Train/Conveyor Belt Sushi (Kaiten-zushi) – Pluck your choice of rolls and sashimi right from the moving belt. Typically they are high quality sushi at a reasonable price.
Katsu Curry – pork shnitzel with curry sauce on rice. According to Nagi this is the best hangover food ever! 🙂
Japanese Strawberry and Cream Shortcake (??????) – lighter and fluffier than its American counterparts. Often found at Japanese celebrations, especially Christmas.
Tell me, do you have any Tokyo food recommendations for my next trip?
Thanks so much for reading! For more Sweet in your life, you can find me on Instagram, Pinterest, and YouTube, or subscribe to receive a weekly email with new posts and musings from me.