The Little River Inn on Highway 1 radiates cozy charm. They have an excellent restaurant, comfortable rooms and they are dog friendly! They are the perfect home base for a weekend getaway to Northern California.
The charming Little River Inn overlooks the beautiful Northern California coast right on Highway 1. It was the perfect home base for exploring the Mendocino area.
The staff was so friendly. We felt at home immediately when we checked in. The exterior of the property was lovely and the view of the ocean was amazing.
Dog Friendly Hotel in Mendocino County
When we're doing weekend trips around San Francisco, we always look for a place to stay that is dog friendly. It's too hard to leave Maddie behind – we're completely codependent! Little River Inn goes above and beyond to earn their dog-friendly reputation. You can be sure your pup will be spoiled with everything from a dog-friendly dining room to welcome treats. Maddie loved exploring the property.
Little River Inn definitely thinks of the little things, which make the experience so much more special. There was a bottle of wine chilled in our room waiting for us, along with truffles.
The grounds were beautifully kept with flowers everywhere.
There were blooms peeking out of every corner.
The inn is broken up into several small buildings making it very quiet and cozy.
Little River Inn Rooms
As you can see, there was nothing little about our room at Little River Inn.
The room was comfortable and cozy. Ours had everything we needed – and more! It was foggy on one of the days we were there, so we loved having a fireplace.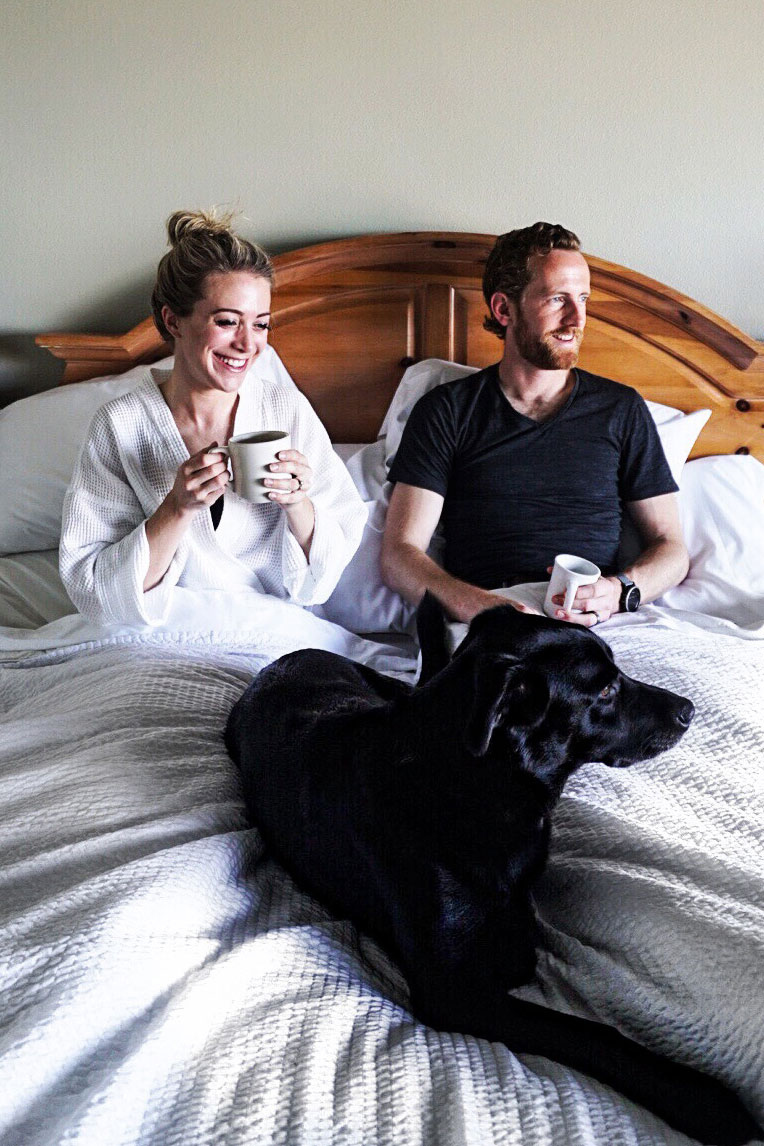 The bed passed the test – we slept soundly every night and woke refreshed.
The bathrooms are…expansive.
I mean forreal. I could comfortably sprawl out my 1.3 million small toiletries and makeup items and Pat still had a full counter around his sink. The bathroom was really nice with white tiles and great lighting, plus a big tub and a shower.
Our balcony had unobstructed views of Highway 1 and the Mendocino coast. What a place to catch sunset!
Restaurant at Little River Inn
We dined two nights at the restaurant at Little River Inn and had a chance to try many dishes on their menu. The food was overall very good, but a few dishes stood out. I would definitely recommend the oysters, crab cakes, and the burger. I would pass on the roasted beet salad and the boar pasta. The portions are generous so you won't leave hungry! The service was exceptional. 
Seriously though, is there anything better than eating fresh oysters on Highway 1 overlooking the ocean?
Dog Friendly Dining at Little River Inn
One of the highlights of our stay was dinner in Little River Inn's dog friendly dining room. They set up a private room for us and Maddie was allowed to join us for dinner! That meant we got to enjoy Maddie staring at us with laser focus while we enjoyed our meal. She has the 'begging without being too pushy' act down to a T.
We may have caved and given her a nibble of our Billionaire's Bacon:
If you want to take advantage of their dog friendly dining, make sure you make a reservation in advance!
Breakfast at Little River Inn
You can enjoy breakfast in bed or breakfast in the Little River Inn dining room. I highly recommend the breakfast in bed option! It's one of my favorite things about staying in hotels and the in room dining menu at Little River Inn is tops.
All of my favorites were on the menu from homemade granola to ginormous pancakes.
I'm still dreaming about their vegan rancheros. Avocado, hash browns, salsa, chilies and tortilla. So. damn. good.
Overall we had a lovely stay and left refreshed with full bellies. I'd highly recommend Little River Inn for a comfortable stay while you explore the Mendocino Coast.
Stay there:
LITTLE RIVER INN ON HIGHWAY 1
7751 CA-1
Little River, California 95456
https://www.littleriverinn.com/
Want more? Check out 10 Things to Do in Mendocino County!
Visiting Mendocino in Northern California? Pin this hotel for later!