Mendocino, California and the surrounding area make a great weekend getaway from San Francisco. It has an amazing food scene, the Anderson Valley wine region and many charming places to stay. It's also incredibly dog-friendly!
I just can't say enough about what a hidden gem the Mendocino coast is. Its access to nature is incredible with the towering cliffs like Big Sur, and the redwood forests of far northern California, all with less traffic and better prices. There's an up and coming wine country in the Anderson Valley and the food scene is booming.
It won't be off the beaten path for too much longer though! We actually ran into a photographer from Travel & Leisure while we were there as he was getting content for an upcoming article. You need to move it to the top of your list for your next weekend getaway from San Francisco.
One of my favorite places about Mendocino is that it is incredibly dog-friendly. Literally, every place we stopped was dog-friendly. It was so amazing to have Maddie as a welcome guest at all of our meals and activities.
The mild weather in Mendocino makes it great for visiting year-round. You may catch the fog or a light seaside drizzle but that just adds to the area's charm.
Little River Inn & Restaurant Mendocino
The charming Little River Inn overlooks the beautiful Northern California coast right on Highway 1. They are the perfect home base for exploring the Mendocino area. They also house one of the best restaurants in the area.
Little River Inn goes above and beyond to earn their dog-friendly reputation. You can be sure your pup will be spoiled with everything from a dog-friendly dining room to welcome treats. A full review of Little River Inn and their restaurant coming in my next post!
Little River Inn on Highway 1
7751 CA-1
Little River, California 95456
https://www.littleriverinn.com/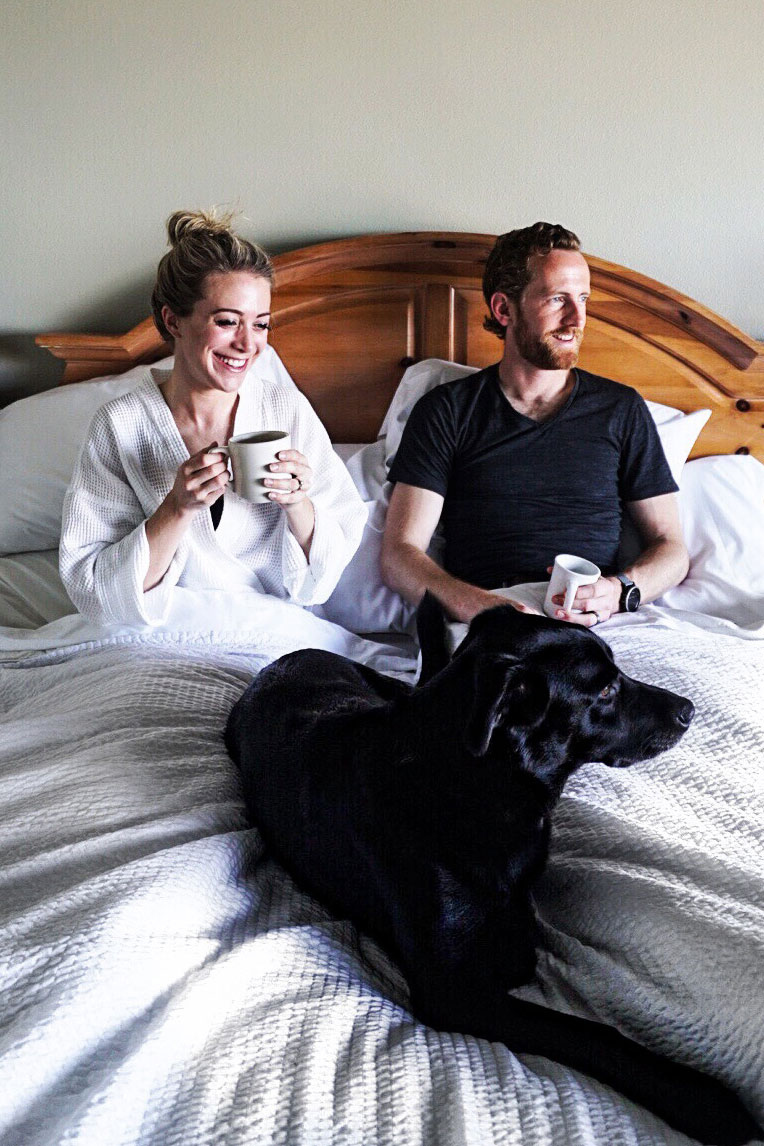 Camp Navarro for Group Events
This was our second trip to Camp Navarro, the first time being in the summer last year for The Outpost. Camp Navarro is a former boy scout camp turned Northern California glamping experience.
Camp Navarro only takes group reservations, so if you have the chance to attend an event at Camp Navarro – do it. It's the true definition of summer camp for adults. They have hiking and running trails, a mess hall and a variety of sleeping options from teepees to cabins. This time we stayed in the Shannon Lodge which was simple but very comfortable. The cabin has two bedrooms, two bathrooms, a huge kitchen, a fireplace, and a living room.
One of the thing you have to do at Camp Navarro is try their outdoor shower. The luxury of taking a hot shower with views of redwood trees is one of our favorite memories of the trip. Unfortunately, Camp Navarro is not dog friendly.
Camp Navarro
901 Masonite Industrial Road
Navarro, CA 95463
http://www.campnavarro.com/
More photos from Camp Navarro:
Bewildered Pig Restaurant Mendocino
I'll say it again, the food scene in the Anderson Valley is blowing up. At the top of the list for amazing dining experiences in the area is the Bewildered Pig in Philo.
The restaurant features beautifully plated California cuisine with the freshest ingredients you can find. We actually watched the mushrooms we enjoyed during our meal be dropped off by a local forager. Talk about hyper-local! The staff is friendly and the couple that owns it is warm and welcoming. You can tell by the way they greet the guests it's a favorite of locals. They seemed to know everyone who came in. We left feeling like we were part of the group too.
Bewildered Pig Restaurant
1810 CA-128
Philo, CA 95466
http://www.bewilderedpig.com/
More photos from The Bewildered Pig restaurant:
Stone & Embers Restaurant in Philo, CA
Stone & Embers is the popular Anderson Valley restaurant in The Madrones, a small hotel in Philo, California (near Boonville). We stopped for lunch and enjoyed one of their wood-fired pizzas and the prettiest little gem salad I've ever seen.
The Stone & Embers outdoor patio is dog-friendly. The staff immediately offered Maddie a water bowl upon our arrival and almost every other guest there had their dog with them!
What to order: Panna Pizza, Smoked Potato Beignets, Little Gem Salad
Stone & Embers Restaurant at The Madrones
9000 Highway 128
Philo, CA 95466
http://www.stoneandembers.com/
Lula Cellars Anderson Valley
Lula Cellars is a small vineyard in the Anderson Valley wine region just outside of Philo, CA. Their beautiful property has a small tasting room, a pond and the most picturesque weeping willow you've ever seen. They produce only 3,00 cases per year and much of it goes to their loyal wine club members. They focus on dry farming their wines or allowing for natural rainfall to irrigate grapes. This allows for water conservation and leads to grapes that are sweeter, denser and smaller.
Lula Cellars takes the dog-friendly label to the next level. As long as your dog is well-behaved, it can be off-leash and have free reign of the property. Don't have your own furry best friend? Honey, the official tasting room pooch, will be happy to lend a friendly lick.
Lula Cellars Tasting Room
2800 Guntly Road
Philo, CA 95466
http://www.lulacellars.com/
More photos from Lula Cellars in the Anderson Valley wine region:
Skunk Train Review
All aboard! A fun and family friendly activity on the Mendocino coast is a short ride on the historic Skunk Train. The train rides a historic route that started in the days of logging back in 1885. If you're wondering about the unusual name, the Skunk Train was originally said to have smelled so badly people claimed they could smell it before they saw it. We rode the Skunk Train from Fort Bragg for a 45-minute round trip voyage. There's also a second train that departs from Willits and goes to Northspur.
The Skunk Train is absolutely dog-friendly! Just make sure you're careful if your pup wants to stick its head out the window – they are very old and we were told they sometimes slam shut without warning.
Skunk Train from Ft. Bragg
100 West Laurel Street
Fort Bragg, CA 95437
https://www.skunktrain.com/
More photos from The Skunk Train:
Django's Rough Bar Cafe Restaurant
Django's Rough Bar Cafe is a delightfully crusty local lunch spot in Fort Bragg, California. At first, it feels like you're walking into an Epcot version of a seaside fish shack, complete with a bluegrass band and kitschy props. Once the amazement has worn off though, you'll realize this place is the real deal! In addition to the perfect seaside ambiance, the food is great. They have local beers on tap and seafood galore including great fish and chips.
What to order: Fish and Chips, Carrot Cake
Django's Rough Bar Cafe in Fort Bragg
32096 N Harbor Drive
Fort Bragg, CA 95437
http://www.djangosroughbarcafe.com/
More photos from Django's Rough Bar Restaurant:
Little River Blowhole Trail on Highway 1
Little River Blowhole Trail is a gorgeous and very short hike (0.3 miles) on the Mendocino coast with stunning views at the end! It's the perfect place to see the coast if you're staying at Little River Inn. The trail gets its name from the huge 'blowhole' on the trail. There's a rope attached to one side if you want to scramble your way to the bottom. The coast views are stunning but there is a steep drop so this might be one to skip with small kids. The trail is also on-leash dog-friendly.
Little River Blowhole Trail
Trailhead is south of Little River Cemetery
Highway 1
Little River, CA 95456
https://www.alltrails.com/trail/us/california/little-river-blowhole-trail
But seriously, these views!
Coastal Views Along Highway 1
Make sure you plan extra time on your drive because there are dozens of beautiful places to pull over along Highway 1. I don't have a specific one to recommend because there are so many great ones! Most of them are quite flat and lead to stunning coastal views. It's amazing how easily accessible and little trafficked these trails are. We're taking Big Sur quality and you may see one or two other people near you. I'm telling you – this entire area is a hidden gem!
Hendy Woods State Park Trails
Hendy Woods State Park is one of the prettiest state parks imaginable. It's an under-the-radar park in the northern California nature scene with miles and miles of hiking trails winding through towering redwood trees. I imagine it gets crowded in the summer, but when we were there in February we hardly saw anyone. It was the perfect place for an afternoon run and has camping that would make for a great home base while exploring the Anderson Valley. In addition to tent sites, they also have small rustic cabins available.
Of note, this is the only not dog-friendly location on my list. In the summer, Hendy Woods has a swimming hole at the bridge right before the park entrance. It's a short but steep hike – or more of a scramble really. Bring shoes as the beach is more rocky than sandy.
Hendy Woods State Park
18599 Philo Greenwood Road
Philo, CA 95466
https://www.parks.ca.gov/?page_id=438
More photos from Hendy Woods State Park:
Catch-A-Canoe Rental Mendocino, California
Take a paddle down Big River in Mendocino with a rental canoe from Catch-A-Canoe. The beautiful hand-carved canoes are modeled after Polynesian technology with two floats that offer a stable ride.
If you're traveling with a furry friend, check out one of their dog-friendly Canine Cruisers that are stable enough for even the most nervous pooch. Maddie was definitely nervous right away, but she settled in as the morning went on. Just make sure you save enough stamina for the paddle home, which for us was against the wind and against the current!
Canoes are first come first serve, so I would consider getting their right when they open to make sure you get a canoe.
Catch a Canoe & Bicycles, Too!
10051 S Big River Road
Mendocino, CA 95460
https://catchacanoe.com/
Glamping at Mendocino Grove
If you want to be in nature and get away from the hustle of city life, but still have the creature comforts of a hotel, then glamping at Mendocino Grove is the perfect weekend getaway! We loved it so much I wrote a whole blog post – Glamping at Mendocino Grove.
Mendocino Grove
9500, 9601 CA-1
Mendocino, CA 95460
https://mendocinogrove.com/
Princess Seafood Market & Deli Fort Bragg
Princess is the women-run fishing boat that fishes off the coast of Northern California, bringing fresh fish to Fort Bragg. You can enjoy all of this amazing locally-caught seafood to go by shopping at their market or enjoy prepared dishes on their outdoor patio.
We had amazingly fresh oysters and perfectly-prepared salmon while enjoying music by a local band. It was the perfect way to spend a foggy Mendocino afternoon!
Princess Seafood Market & Deli Fort Bragg
32410 N Harbor Drive
Fort Bragg, CA 95437
https://fvprincess.com/p/fish-market
Russian Gulch State Park
I always say that Mendocino is like a better, less-touristy version of Big Sur. It even has the Frederick W. Panhorst Bridge, more commonly known as the Russian Gulch Bridge. It's eerily similar to the famous Bixby Bridge in Big Sur.
Russian Gulch State Park has camping, a beach and lots of hiking trails. Our favorite place to hike is the dog-friendly Headlands Trail, which offers amazing views of the coastline and bridge. If you aren't traveling with a dog, the Fern Canyon Trail has an amazing waterfall that you have to check out.
Russian Gulch State Park
Highway CA-1
Mendocino, CA 95460
https://www.parks.ca.gov/?page_id=432
Have you visited the Mendocino area yet? Any recommendations that we should add to our list for our next trip?
Thanks so much for reading! For more Sweet in your life, you can find me on Instagram, Pinterest, and YouTube, or subscribe to receive a weekly email with new posts and musings from me.
Looking for Northern California Travel Inspiration? Pin this article for later!