TAP Airlines Review of an Economy Class direct flight from San Francisco, California to Lisbon, Portugal, including food, seats & international flight experience.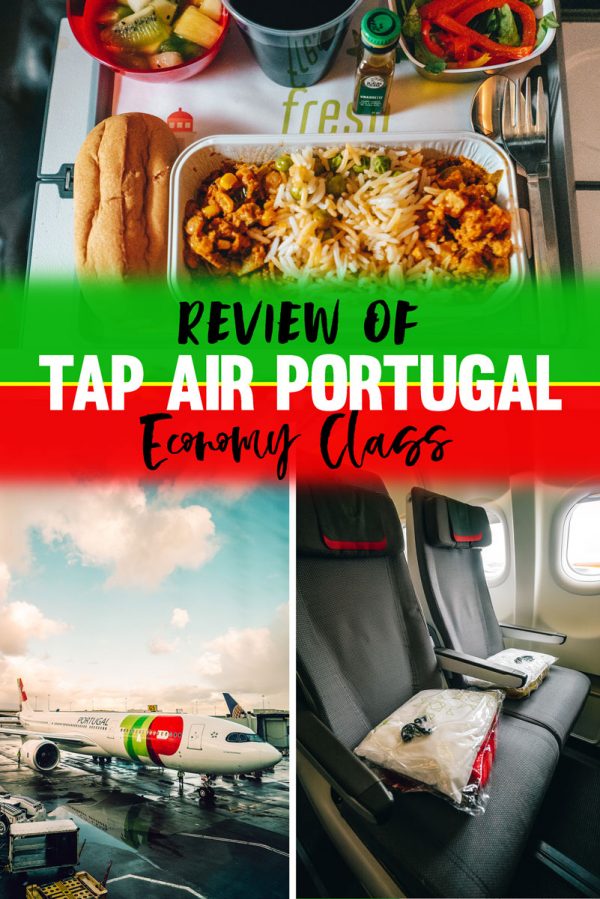 We flew directly from San Francisco to Lisbon, Portugal on TAP Air. This was my first experience flying TAP and I was really impressed! They have a direct flight five times per week which is the most important thing I look for when choosing an airline.
Here's everything you need to know about flying EconomyXtra class with TAP airlines, including a look at the airline food, airport lounge, and overall customer experience.
Read on for my TAP Air economy class review…
Direct Flights from San Francisco to Lisbon
I cannot say enough positive things about direct international flights. After a few unlucky experiences with delays and missed connecting flights, we go out of our way to book direct flights.
We both work full time, so when we missed our connection to Iceland a few years ago and had to spend a night in Seattle, it chopped an entire day off of an only nine-day trip. This was such a bummer! Add to that the cost of a hotel in Seattle and an unused hotel room in Iceland and even a few hundred dollars extra upfront for a direct flight is WORTH IT. If you have a short connection you're also more likely to have your baggage misplaced and don't even get me started about long layovers that require sleeping in the airport.
Our direct flight to Lisbon with TAP airlines cost the same as a flight with multiple connections on other airlines, so it was a no brainer. They offer five direct flights each way per week.
Our experience flying TAP was very reliable. We arrived about one hour late on the way to Lisbon and early on the way home.
Airbus 330 Neo Airplane
The plane for our direct flight from San Francisco to Lisbon was the brand new Airbus 330 Neo. This plane was amazing. I didn't notice it until Pat pointed it out (probably a good thing!), but it was unbelievably quiet. Usually, the hum on airplanes is almost deafening, but even takeoff and landing were very quiet. It felt really luxurious to not need noise-canceling headphones during travel. Everything felt very clean, modern and new.
Economy Xtra Seats on TAP Airlines Portugal
We upgraded to Economy Xtra Class for a small fee to get a little extra legroom and seats that recline slightly further than the Economy seats. I did get a peek at the Executive Class seats when boarding and they looked so nice! Ah, the luxury of lay-flat seats for international flights. 🙂
These seats come with power outlets which meant I could spend the flight home editing photos.
Each seat had its own monitor with entertainment options and a map to track flight progress. Movie selection was very good and resolution was excellent. I finally got to watch Black Panther which was so good.
On the way to Lisbon, we got really lucky and had four middle seats to ourselves. This felt like winning the lottery! I always pack my own eye mask and earplugs to maximize my chances of getting some sleep on long flights. And also to look so cool.
TAP Airlines Portugal Economy Class Food
Our food was excellent. We ordered Asian vegetarian meals in advance as they tend to be my favorite when I fly! They did not disappoint. The paneer was just spicy enough and I felt full after eating it which doesn't always happen with vegetarian meals. They also did a great job of incorporating fresh and healthy food into each meal, like the side salad and fruit salad.
On the way to Lisbon, we had a side quinoa salad that was so good I could have eaten a bucket! It felt like something I would buy at the salad bar at Whole Foods.
We didn't fare as well with breakfast, which was fruit with a side of….fruit? Luckily they had a few of the regular breakfasts left so we snagged those and just ate the cheese. This is definitely one of the gambles you take when ordering special meals on an airline.
TAP Air Service
At both SFO and Lisbon airports the check-in experience was amazing. The lines were short, moved quickly and the airport staff was so friendly! On board, flight attendants were polite, professional, and clearly busy, but always happy to respond to whatever we needed.
TAP Airlines Lisbon, Portugal Airport Lounge
For the privacy of other passengers, photos and videos aren't allowed in the TAP Air Lounge at Lisbon airport, so I only have the couple of photos that I took before we were informed of this. We flew out on a Saturday morning and the lounge was packed. Almost every seat was taken.
The lounge had a huge food selection with pastries, finger sandwiches, fresh vegetables, and all the standard breakfast options like scrambled eggs and sausage. The coffee was amazing. They had a fancy machine that made any drink you wanted, like mochas and espresso. The lounge also has a "wine wall" which would have been great if it wasn't 8 am. 🙂
The lounge WiFi was very fast which was great for one last check of emails and posting some Instagram stories from the trip.
Tip: Make sure you leave adequate time between leaving the lounge and flight departure. We didn't realize we had to go through customs during this segment. This was a surprise to us and could have caused us to miss our flight! Luckily the line was short and it wasn't an issue.
TAP Airlines Portugal Review Summary
In summary, this was an excellent flight experience that felt like an above-average value. The plane was top of the line, food was better than expected and we experienced only minor flight delays. The option of a direct flight takes a lot of the stress out of flying with no worries about missed connections or long layovers. I would definitely go out of my way to fly TAP Air again.
Where to Travel in Portugal
Don't forget to check out my other Portugal Travel posts!
Portugal Photo Spots – Aveiro & Costa Nova:
Coimbra, Portugal Travel Guide:
Tomar Portugal and the Knights of Templar Castle:
Harry Potter Library in Coimbra, Portugal:
Review of Portugal TAP Airlines Economy Class Flights: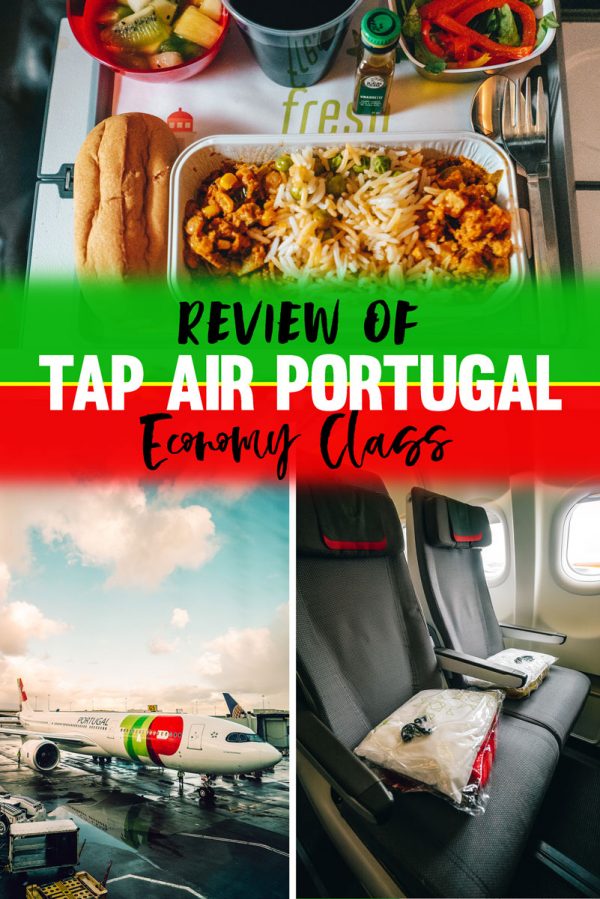 Traveling to Portugal? Pin this post for later!
Thanks so much for reading! For more Sweet in your life, you can find me on Instagram, Pinterest, and YouTube, or subscribe to receive a weekly email with new posts and musings from me.