Okinawa, Japan Taco Rice Recipe with Black Beans, Cheese, Tomatoes and BACON! Makes a great casserole, it's easy to make and it tastes AMAZING.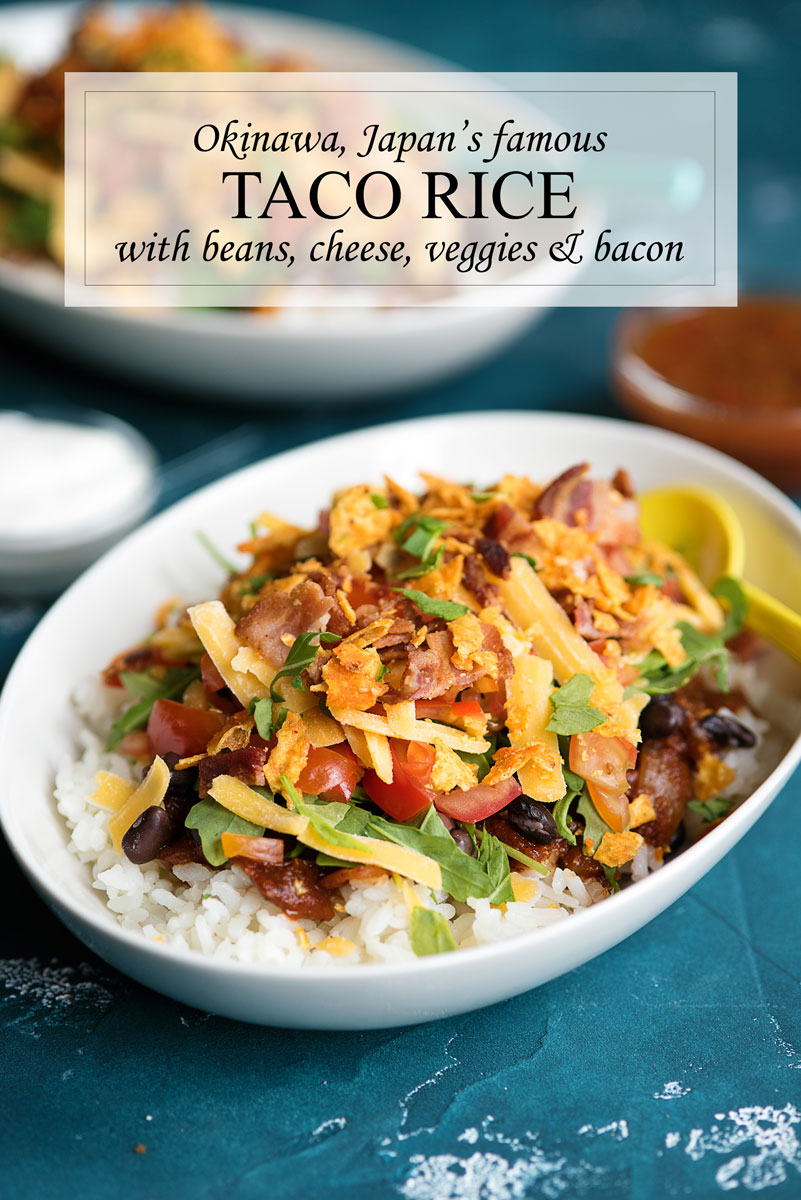 Let's taco 'bout taco rice.
Despite all the incredible traditional foods that Okinawa, Japan offers, one of the prefecture's most recognizable dishes actually has an American twist. Okinawan taco rice, or takoraisu, is a true fusion dish. It's American Tex-mex cuisine mixed with Japanese.

The History of Taco Rice
The island of Okinawa has been the site of American military bases for decades. The bases are home to about 27,000 troops and their family members. Although this arrangement is not without controversy, taco rice is one of the positive aspects of the melting pot of culture.
Apparently the taco rice recipe was invited in the 1980's by a Japanese chef, Matsuzo Gibo. He was inspired to combine the soldiers' tacos with rice, a staple of the Okinawan diet. He served the taco rice at two of his cafes, Parlor Senri and King Tacos, that were located near the military base Camp Hansen.
My take on taco rice!
Taco rice is the ultimate comfort food. Even though it might sound a bit strange, I promise it will take only one bite to convert you. Pat raised his eyebrows when I piled it on his plate, but he quickly devoured every last grain of rice. It's also great family style, with all the ingredients layered in a baking dish making it into a taco rice casserole.
The recipe you'll find here isn't an 'official' version, instead this is based on taco rice that I ate in the American Village in Okinawa. That version had bacon and Doritos on it! Two of my favorite guilty pleasures for dinner? And there's cheese on it? It doesn't get any better.

I wanted to make a large batch of taco rice so we could eat it for work leftovers all week. To make it keep a little longer, I swapped out the traditional ground beef that's used for taco rice for a vegetarian option – black beans. I also couldn't bear to make taco rice with its traditional source of green – watery, bland iceberg lettuce. Instead, I upgraded to a spicy arugula, which was amazing! You can use whatever you'd like – iceberg, romaine, spring mix, etc. The American Village restaurant had numerous iterations, including a fried egg-topped version, spicy beans, and even an omelette on top!
A few note about Japanese rice
For this recipe, you'll want to use a Japanese short grain sticky white rice, which you might know of as 'sushi rice'. I actually attended a seminar on Japanese rice here in San Francisco before I left for my trip. We had the chance to do a side-by-side comparison of Japanese and American sushi rice.The Japanese process of polishing the rice is held to the highest standards. This is reflected in the final product. I was surprised to find that Japanese-grown rice is more uniform in size and shape, meaning it cooks up more evenly for a better flavor and texture.
The Japanese swear that the water itself also contributes to their rice's superiority. Japan's water is low in calcium and magnesium, which helps to bring out the natural flavors of the rice. I'm not sure what exactly it is about Japanese rice, but it was an easy choice for this recipe.
Itadakimasu!
With that, Itadakimasu! The phrase sounds like "it's a ducky mouse" when you say it fast and means "I humbly receive" in Japanese. It's the 'bon appetit' of the Japanese language. I'm humbled to share my version of taco rice with you.
Thanks so much for reading! For more Sweet in your life, you can find me on Instagram, Pinterest, and YouTube, or subscribe to receive a weekly email with new posts and musings from me.

Print
Okinawa Taco Rice with Beans, Cheese & Bacon
Okinawa, Japan Taco Rice Recipe with Black Beans, Cheese, Tomatoes and BACON! Makes a great casserole, it's easy to make and it tastes AMAZING.
Author: Kelly Egan - A Side of Sweet
Prep Time:

60 min

Cook Time:

30 min

Total Time:

1 hour 30 minutes

Yield:

6

1

x
Category:

Main Dish

Method:

Stovetop

Cuisine:

Japanese

Diet:

Gluten Free
Taco Rice Ingredients:
1 ½ cups

short-grain rice

1 teaspoon

olive oil

1

large onion, finely chopped

1/2

packet of taco seasoning (recipe below)

15 ounces

(

1

can) tomato sauce

2

–

4

dashes hot sauce

1

can black beans, rinsed and drained

4 cups

lettuce or arugula

1 cup

diced tomatoes

1 cup

shredded cheddar cheese

8 ounces

(about

8

slices) bacon, well-cooked

1

avocado, sliced

1/2 cup

crushed tortilla chips or Doritos
Sour cream
Salsa
Taco Seasoning Ingredients for 1 Packet of Seasoning:
1 tablespoon

 chili powder

1 1/2 teaspoon

ground cumin

1 teaspoon

sea salt

1 teaspoon

black pepper

1/2 teaspoon

paprika

1/4 teaspoon

garlic powder

1/4 teaspoon

onion powder

1/4 teaspoon

 crushed red pepper flakes

1/4 teaspoon

dried oregano
Instructions
How to cook taco rice:
Cook rice according to package directions.
Heat olive oil in a large saucepan on medium heat. Sauté onion until soft and translucent, but not browned, about 6-8 minutes.
Add 1/2 packet of taco seasoning and cook until fragrant, about 30 seconds. Add tomato sauce and hot sauce and cook until heated throughout.
Layer rice on serving plates or in a casserole dish. Top with the tomato-onion mixture, then the black beans, lettuce, tomatoes, shredded cheese, bacon, avocado and crushed chips.
Serve with sour cream and salsa.
How to make taco seasoning (recipe for 1 packet of seasoning):
Mix all spices together in a small bowl. Mixture will keep for several weeks in an airtight container at room temperature.
Keywords: Taco Rice, Okinawa Taco Rice, Japanese Fusion Recipe, Okinawa Japan Food
12 Things to Do in Okinawa, Japan
Okinawa, Japan Food & Restaurant Guide
Glamping at Nanma Mui Resort in Okinawa
Mahaina Wellness Resort in Okinawa