Drop everything and make this stuffed s'mores cupcakes recipe topped with toasted marshmallow frosting. The graham cracker cupcake is stuffed with chocolate ganache making every bite a bit of heaven.

I'm the queen of s'mores. You'll find s'mores recipes everywhere on my blog, from s'mores milkshakes to s'mores cheesecake. I even have a Pinterest board dedicated to s'mores!
And check out the s'mores in our engagement photos.
My pursuit of s'mores is a true life passion.
It's fitting then that these cupcakes made an appearance on my wedding dessert table.
On the day of my wedding, I went pretty nuts with the desserts which included: Carrot Cake, New York style cheesecake, decorated sugar cookies, and blueberry pie! Everything was done by me, which in retrospect is kind of crazy. The effort that I put into the work was worth it though, and sharing all of the desserts with our guests was one of my favorite memories from the day.
These cupcakes were originally inspired by my favorite cupcakes from (now closed) Cupcakes a Go-Go, a local bakery in my hometown of Madison, Wisconsin. Talk about love at first bite.
Easy to Make Stuffed Cupcakes
You won't believe how easy it is to take your dessert game up a notch with stuffed cupcakes. All you need is an $8 apple corer. This genius little tool has never cored a single apple in our house – but it has cored hundreds of cupcakes including my famous lemon curd stuffed cupcakes that have been pinned almost 200 thousand times!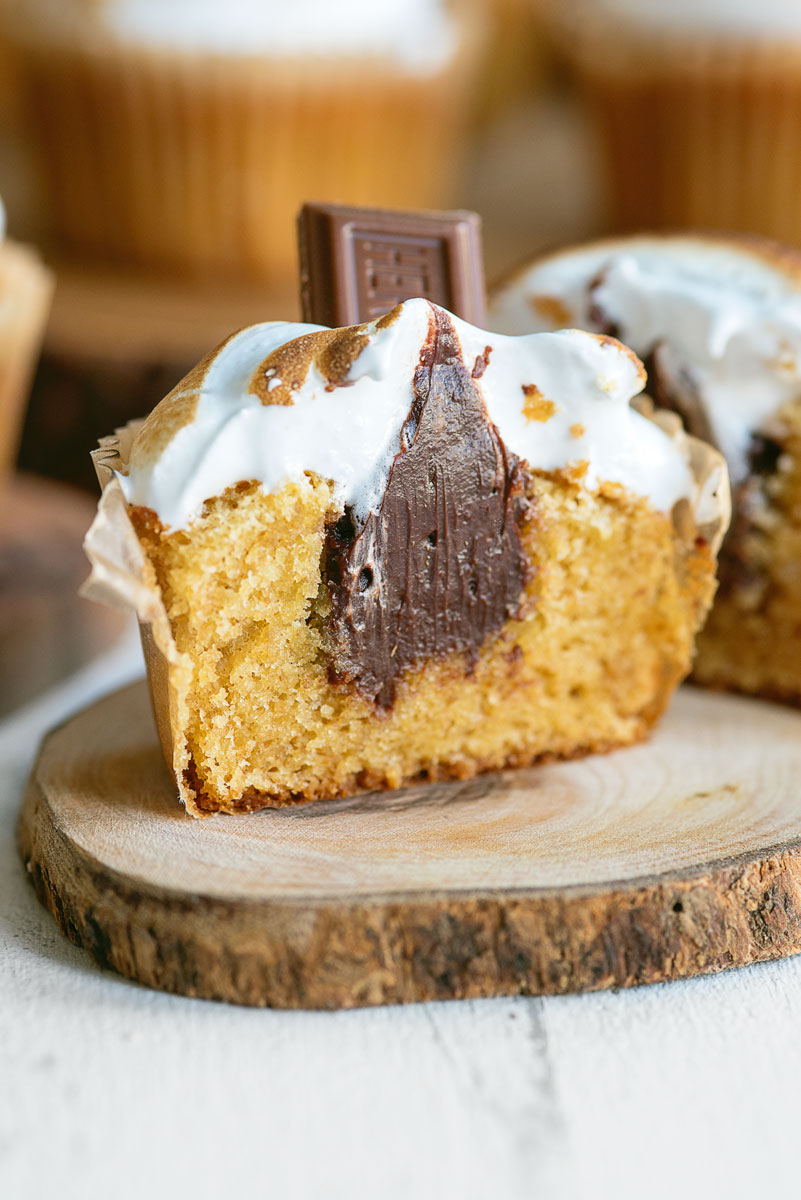 Why This S'mores Cupcakes Recipe is Awesome
Even though there are multiple components, each one is seriously easy – no special skills required!
Graham cracker cupcake batter actually tastes like graham crackers and are perfectly crumbly and not overly sweet.
Chocolate ganache makes the perfect cupcake stuffing as it doesn't harden giving that melty chocolate campfire feel even when at room temperature.
Toasted marshmallow cupcake frosting – enough said!
They stand up well in warm settings like summer potlucks as there's no butter in the frosting.
Thanks so much for reading! For more Sweet in your life, you can find me on Instagram, Pinterest, and YouTube, or subscribe to receive a weekly email with new posts and musings from me.

Print
Stuffed S'mores Cupcakes with Homemade Marshmallow Frosting
Drop everything and make this stuffed s'mores cupcakes recipe topped with toasted marshmallow frosting. The graham cracker cupcake is stuffed with chocolate ganache making every bite a bit of heaven.
Author: Kelly Egan - A Side of Sweet
Prep Time:

20 minutes

Cook Time:

17 minutes

Total Time:

37 minutes

Yield:

1

8

1

x
Category:

Dessert

Method:

Oven

Cuisine:

American
1 ½ cups

graham cracker crumbs (about

15

whole crackers ground in processor)

½ cup

flour

2 ½ teaspoons

baking powder
Pinch of salt

½

 cup (1 stick) unsalted butter at room temp

¾ cups

sugar

2

large eggs

1 teaspoon

vanilla extract

¾ cup

whole milk

4 ounces

bittersweet chocolate (do not exceed 61% cacao), chopped

¼ cup

heavy whipping cream

4

egg whites

1 cup

sugar

¼ teaspoon

cream of tartar

1 teaspoon

vanilla extract
Hershey's milk chocolate bars, for garnish
Special Equipment
Instructions
Make graham cracker cupcakes:
Line cupcake tin with paper liners. Combine graham cracker crumbs, flour, baking powder, and a pinch of salt in medium bowl.
Beat butter and sugar in large bowl until light and fluffy, about 4 minutes. Scrape bowl and add eggs 1 at a time, beating to blend between additions. Scrape bowl and add vanilla. Add graham-cracker mixture in 3 additions, alternating with milk, beginning and ending with graham-cracker mixture.
Divide batter among cupcake liners.
Bake at 350° Fahrenheit for 17-20 minutes or until toothpick comes out clean. Transfer to wire rack to cool.
Make chocolate ganache filling
Place chocolate in medium bowl. Microwave on 30-second intervals until melted. Stir in heavy cream.
Stuff cupcakes with chocolate ganache
Push apple corer about 1 inch into top of each cupcake; remove cake, forming the hole. Fill the hole with chocolate ganache.
Make toasted marshmallow frosting:
Place egg whites, sugar, and cream of tartar in the heatproof bowl of an electric mixer. Set over a saucepan filled with simmering water. Whisk constantly until sugar is dissolved and whites are warm to the touch, 3 to 4 minutes.
Transfer bowl to electric mixer fitted with the whisk attachment, and beat, starting on low speed, gradually increasing to high, until stiff, glossy peaks form, 5 to 7 minutes. Add vanilla, and mix until combined.
Top with toasted marshmallow frosting:
Fill a piping bag with marshmallow frosting. Snip a 3/4-inch hole in piping bag and pipe a swirl onto each cupcake.*
Use a kitchen torch to "toast" the marshmallow frosting. Alternatively, you could use your broiler but you have to keep a very close eye on them as there is a very fine line between toasted and charred!
Garnish with a piece of Hershey's chocolate.
Notes
*I previously used a Wilton 1M open star tip, which you can see an example of in the last photo. The one issue I ran into with this look is that it doesn't toast evenly, but I still think it looks pretty! You can use either technique.
Keywords: S'mores, Cupcakes, Marshmallow, Frosting
Craving these stuffed s'mores cupcakes? Pin this recipe for later!
P.S. – This post is an update form one that was initially shared in February 2013. Want to see what my photography looked like five years ago? Here's a photo from the original post:
See more of our wedding photos & DIYs:
DIY Hanging Twine Balls
First Look Wedding Photos, Part I
First Look Wedding Photos, Part II
Wedding Dance Party Photos
Wedding Details – Dessert Table & Table Decorations
Wedding Updo – How to Chalk Your Hair
Wedding Ceremony Pictures
Wedding Getting Ready Pictures
Vintage Drawer Pulls as Placecard Holders DIY
DIY Wedding Photobooth Setup with Printable
DIY Gilded Upcycled Plastic Cups
DIY Glitter Upcycled Silverware
DIY Honey Jar Wedding Favors
Rustic Wedding Cake Frosting Technique
Stuffed S'mores Cupcakes Recipe
DIY Glitter Swizzle Sticks
DIY Embossed Envelopes
Engagement Photos, Part I
Engagement Photos, Part II